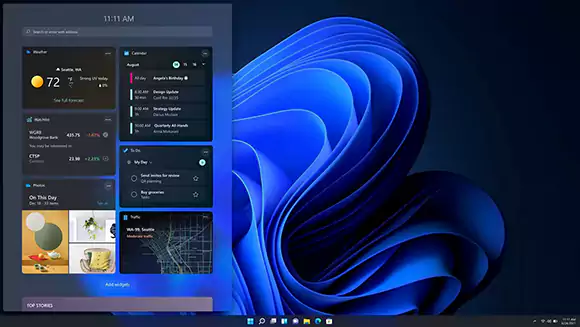 Windows 11 Review – First Look At This OS
Windows 11 is the latest operating system (#ad) released by Microsoft on October 5, 2021. Windows 11 is an updated version of Windows 10 with new features, better performance, and a new user interface. In this review, I will review the pros and cons of Windows 11, its user interface, menu, apps, speed, resources, RAM, Direct X, upgrade, cost, updates, hard drive, widgets, internet, ISO, TPM 2.0, trusted platform, Android apps, and finally, I will give my recommendation for Windows 11.
Pros:
User interface: The user interface of Windows 11 is much improved compared to Windows 10. The menu is now more organized and the start menu has been redesigned to make it easier to access your apps and settings.
Speed: Windows 11 is faster than Windows 10, which is a big plus for users who need a fast operating system for their work or personal use. The operating system is also more optimized for use on newer hardware, which means that it will run smoother on newer devices.
Apps: Windows 11 has a variety of built-in apps that are designed to make your life easier. Some of these apps include Microsoft Edge, Microsoft Office, and OneDrive. The apps are also optimized for use on touchscreens, which makes them more accessible for users with touch-enabled devices.
Direct X: Windows 11 supports Direct X 12, which means that users can enjoy better graphics and gaming performance (#ad).
TPM 2.0: Windows 11 includes TPM 2.0, which is a security feature that protects your data and ensures that your device is secure.
Trusted Platform: Windows 11 is a trusted platform that is secure and reliable, making it an excellent choice for users who need a secure operating system for their work or personal use.
Android Apps: Windows 11 now supports Android apps, which means that users can enjoy a wider range of apps on their Windows devices.
Cons:
Cost: Windows 11 is not free, and users will need to purchase a license to use it. This may be a drawback for users who are used to using Windows 10 for free.
Updates: Windows 11 requires regular updates, which can be time-consuming and may cause disruptions to your work or personal use.
Hard Drive: Windows 11 requires a large hard drive to run effectively, which may be a drawback for users with smaller hard drives.
ISO: Windows 11 is only available as an ISO file, which means that users will need to create a bootable USB drive or DVD to install the operating system.
Highlights:
User interface:

More organized menu
Redesigned start menu

Speed:

Faster than Windows 10
Optimized for newer hardware

Apps:

Built-in apps
Optimized for touchscreens

Direct X:
TPM 2.0:
Trusted Platform:
Android Apps:
In conclusion, Windows 11 is a solid operating system that offers a lot of new features and improvements over Windows 10. The user interface is more organized, the speed is faster, and the built-in apps are optimized for use on touchscreens. Windows 11 also includes TPM 2.0, which is a security feature that protects your data and ensures that your device is secure. However, Windows 11 is not free, and users will need to purchase a license to use it. Additionally, Windows 11 requires regular updates, which can be time-consuming and may cause disruptions