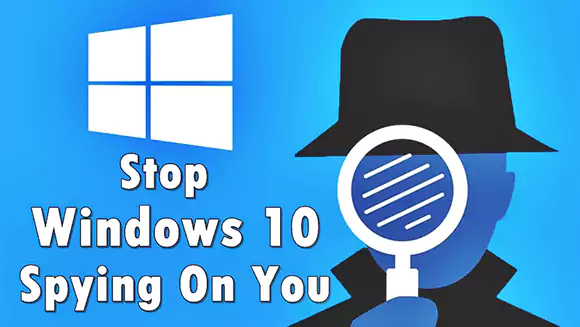 Windows 10 Is Spying On Your Computer
It is true that Windows 10 has raised privacy concerns among users as it collects (spying) a significant amount of user data, including handwriting, voice recognition, telemetry, web history, cookies, experiments, advertisements, inventory, suggestions, and more.
While Microsoft has stated that "this data is collected to improve the user experience and is anonymous", however many users are concerned about the potential misuse of this data or its vulnerability to security breaches. Microsoft has provided several privacy settings that allow users to control the data that is collected and sent to Microsoft. However, some of these settings are not easy to find, and many users are unaware of them.
Telemetry – Windows 10 collects data about how you use your computer, including details about your hardware and software usage. To disable telemetry, go to Settings > Privacy > Feedback & diagnostics and select "Basic" as your diagnostic data level.
Cortana – Windows 10's virtual assistant can listen to your voice and collect data about your preferences. To disable Cortana, go to Settings > Cortana and turn off the "Cortana can give you suggestions, ideas, reminders, alerts and more" option.
Web History – Windows 10 tracks your web browsing history (#ad) by default. To disable this feature, go to Settings > Privacy > Activity History and uncheck "Store my activity history on this device".
Cookies – Windows 10 uses cookies to track your online activity. To disable this feature, go to Settings > Privacy > Cookies and uncheck "Block all cookies".
Experiments – Windows 10 occasionally runs experiments to improve its services. To disable this feature, go to Settings > Privacy > Feedback & diagnostics and turn off the "Tailored experiences" option.
Advertisements – Windows 10 shows you targeted advertisements based on your browsing history. To disable this feature, go to Settings > Privacy > General and turn off the "Let apps use advertising ID to make ads more interesting to you" option.
Inventory – Windows 10 collects information about your hardware and software inventory. To disable this feature, go to Settings > Privacy > Diagnostics & feedback and turn off the "Send your device data to Microsoft" option.
Suggestions – Windows 10 makes suggestions based on your browsing and search history. To disable this feature, go to Settings > Privacy > General and turn off the "Show suggestions in Settings, Start, and search" option.
Snooping – Windows 10 can use your microphone and camera to record your activities. To disable this feature, go to Settings > Privacy > Microphone and Camera and turn off the "Allow apps to access your microphone/camera" option.
Handwriting – Windows 10 can collect data about your handwriting patterns. To disable this feature, go to Settings > Devices > Pen & Windows Ink and turn off the "Improve recognition" option.
In summary, Windows 10 does collect tons of user data, which has raised privacy concerns regarding spying and security. However, users can use FREE third party software in order to disable these annoying "features".